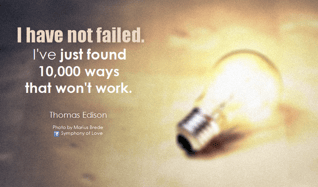 We've all heard that genius is one percent inspiration and ninety-nine percent perspiration. Clearly, Thomas Edison knew that achieving genius goes well beyond just having an idea. Having the idea can feel like a breakthrough to the solution on it's own, but it's the actual execution that really makes the difference.
Fortunately or unfortunately, many financial advisors are well aware of this fact. They've experienced it in the process of running their own businesses. The dual task of working in your business to take care of your clients, while simultaneously working on your business to create growth, can only be accomplished if you execute effectively. Rather than getting discouraged by this fact, let it motivate you to action in the following ways:
Be clear on your goals: It's easy to get distracted doing things that feel (and in some cases actually are) productive, when we lose sight of what the end-result looks like. Be PERFECTLY clearly on your goals, and don't waste your time doing productive things that aren't relevant. Being clear on what you want your business to look like five years from now, ten years from now—even after you retire—will allow you to check in with yourself to ensure your actions are productive as well as on track toward your goals and the future vision of your business.
Get a partner: Accountability is a huge contributing factor in our ability to execute. Sometimes even our strongest desires aren't enough to keep us moving forward when the going gets tough. That's when we turn to our trusted friends and advisors… or better yet, a certified coach who is clear on our goals and has the ability to take a objective perspective on our business to help us achieve those goals.
Do something for 100 Days: I've been hearing a lot lately about The 100 Day Challenge. I'm mentioning it to encourage you to start doing one thing to work toward your goal every day, for 100 days. You'll be amazed at how much you can accomplish when consistently taking action toward your goals even if it's for an hour a day for 100 days.
Create a process around what you do: James Clear, a very smart entrepreneur, points out how he starts every routine with one, simple, initial step. Getting a glass of water before he begin writing is an example. This is the easy step he takes every time he wants to sit down to write, that motivates him for the rest of his routine. No matter how complex the execution might be, he knows he can always take that first step, which motivates him to continue on with the others. When all the steps in the execution are outlined, he has a clear process to follow that he can replicate day in and day out without exerting much thought, just effort toward the task.
Make it a habit: This takes creating a process a little deeper, by making this process occur at the same time everyday, within a specific set of parameters. Rather than making a choice to do something each day, it naturally becomes a part of your routine through habit formation—like brushing your teeth or getting out of bed. It's the obvious option, not the one you have to force yourself to do.
These are just a few ideas to will help you work toward achieving your most challenging business goals.
Powerful Coaching Questions from This Article:
Which goals for your business are you continually putting on the back burner and need to be made a priority?
How can you bring some of these goals into the fold of your day-to-day business to make them part of what you and your team are collectively working toward each day?
How often do you revisit these goals to ensure they are in line with what you are doing each day?
Topics: Coaching Business and Operations Management Goals Time Management