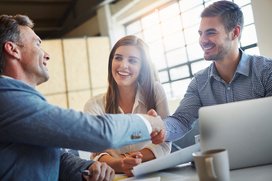 The clock is ticking
We've all seen the statistics. The probability that your firm will be able to retain your current clients' assets once they transfer to the next generation are slim – by most accounts, the percentage of those assets that will remain with your firm post-intergenerational transfer is in the teens. It's the elephant in the room that nobody wants to acknowledge.
Think about that for a minute. If you're currently running an enterprise with $500MM in AUM and an average client who's aged somewhere near 60-65, choosing to do nothing but whistle past the graveyard means there's a very good chance that close to $425MM of your current AUM will at some point walk out the door over the next 20 years! And if you're average client is age 70+, you're looking at the exact same outcome just over a more compressed timetable.
All the time, effort and energy you've devoted to acquiring and caring for your clients; gone for no other reason than failing to effectively engage with the next generation before they become inheritors of wealth.
5 ways to build better connections
While they may be inclined to make a clean break and forge their own path with their own people, there are steps you can take to build stronger relationships with the next generation.
Read More