Engaging the NextGen client
The clock is ticking
We've all seen the statistics. The probability that your firm will be able to retain your current clients' assets once they transfer to the next generation are slim – by most accounts, the percentage of those assets that will remain with your firm post-intergenerational transfer is in the teens. It's the elephant in the room that nobody wants to acknowledge.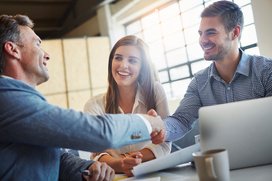 Think about that for a minute. If you're currently running an enterprise with $500MM in AUM and an average client who's aged somewhere near 60-65, choosing to do nothing but whistle past the graveyard means there's a very good chance that close to $425MM of your current AUM will at some point walk out the door over the next 20 years! And if you're average client is age 70+, you're looking at the exact same outcome just over a more compressed timetable.
All the time, effort and energy you've devoted to acquiring and caring for your clients; gone for no other reason than failing to effectively engage with the next generation before they become inheritors of wealth.
5 ways to build better connections
While they may be inclined to make a clean break and forge their own path with their own people, there are steps you can take to build stronger relationships with the next generation.
Remember to engage with them as unique individuals rather than just extensions of their parents. Don't simply assume they share their parents' values, beliefs, goals, preferences or risk profile. It's vital that you take the time long before they become inheritors to sit down and have an open, honest conversation so you not only can better understand their motivations, but begin to interact with them in a manner they prefer.
Offer your services as a financial mentor. Many studies in recent years have indicated that fewer than one in five wealthy parents have taken any steps to enhance the financial education of their teenage or adult children. Yet those same parents overwhelmingly fear that their kids will be incapable of responsibly managing the wealth they inherit. By offering to provide one-on-one engagements, group bootcamps or seminars, you may be able to strengthen relationships with both generations.
Not only are inheritors generally more tech-dependent, studies show they in fact have greater trust in technology than they do in people. You need to up your technology game if you hope to deliver a service model the NextGen client will respond positively to. And it's especially critical given that your clients' adult children may be living across the country or around the world.
Who's going to take care of your current and future clients when you and your partners finally decide to retire? Hiring NextGen advisors serves as a natural entry point to begin establishing closer relationships with your existing clients' heirs, provides a conduit for establishing relationships with new millennial clients and can infuse new energy into a lethargic practice.
Offer to facilitate family wealth meetings. Many parents have a strong desire to engage their children in discussions about being good stewards of wealth and exploring shared financial values. Often, however, that desire is overshadowed by a reluctance to talk about how much they're worth and what their children can expect to inherit. As a knowledgeable outsider, however, you are an ideal choice to help facilitate these sensitive discussions.
Whichever course or courses of action you choose to pursue, the important thing is not to sit idly by as your AUM is slowly bled off. At ClientWise, we encourage our clients to create a specialized multi-generational service plan that facilitates the orderly transfer not only of family wealth, but also family values – and does so while keeping the family bonds tight.


Coaching Questions from this article:
Think about your firm's current approach to working with your clients' children and heirs. Are there ways you can more actively engage the next generation?
What steps are you currently taking to prepare your firm for millennial clients? How committed are you to modifying your practices, procedures and even team composition to achieve that goal?
Think about the present state of your technology, particularly as it relates to client communications. What are the most glaring deficiencies and how can you begin to move towards a more streamlined digital delivery of information and advice?
Think about your hiring plan for the future. Are you approaching it proactively with an eye on attracting NextGen advisors to ensure a durable and sustainable practice?
Like this blog? Click "Follow" in the upper right-hand corner to receive all the eLibrary Blog updates!
Topics: Client Acquisition Client Engagement