The time to repair the roof…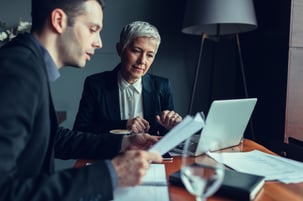 …is when the sun is shining. That was the clarion call of JFK in his 1962 State of the Union address – a challenge to the nation to use current times of prosperity to better prepare for the uncertainty of what lies ahead. As we stand on the precipice of another wave of COVID-19 infections, this is an ideal time to anchor your clients on their long-range investment purpose and plan, and to identify any clients who may be "at risk."
After more than a decade of sustained market success (despite this year's Q1/Q2 roller coaster) and resulting portfolio growth, we're inclined to take it for granted that our clients are happy, comfortable and loyal. Yet more volatility will inevitably come. We may not know precisely when, but we know it's out there somewhere on the horizon. So, let's take advantage of this relative calm to re-recruit each client as if they were a prospect. Let's revisit our clients' financial plans – validating the goals, objectives and key results they hope to achieve, and assessing their progress to date.
Make sure, however, that you try to approach each client with a beginner's mind – stripped of preconceptions and open to new ideas. It's not enough to fully understand the client's goals, you also need to identify the goals of their future beneficiaries if you want to build truly deep and multi-generational relationships.
A quick exercise
Go through your current client list and add ten years to the age of each client. Now ask yourself one critical question: When the calendar shifts to the next decade, will you still be working with the client or is there a reasonable chance you'll be working with their heirs? Are you confident that those relationships are shored-up?
Consider taking advantage of this period of calm to re-segment your clients using our ClientWise At-Risk Client Assessment™ tool. It's an incredibly beneficial exercise that allows you to identify those clients who are loyal Advocates (likely no more than a handful per advisor), those who are Engaged, those who are Questionable, and those who are clearly At-Risk – along with assigning specific actions you plan to take to strengthen any questionable or at-risk relationships.
Don't let complacency seep into your business. Now's the time to reassess client goals so that their confidence in the plan you've together put in place is at an all-time high. You may even find that after the past decade, goals that at one time seemed more aspirational (and as a result required more investment risk) today have a much higher probability of success that will allow you to dial-back the associated risk.
Then when clients start seeing negative news and spiking volatility, they'll feel less anxiety and fear, knowing that you've taken the time to ensure that their financial plan is well anchored.
Coaching Questions from this article:
What strategic steps can you commit to taking to more proactively engage questionable and at-risk clients to start developing them into engaged clients?

What do you think your clients would say if asked to describe your firm's value? Does that correspond to your vision of how you WANT to be perceived?

Think about your firm's current approach to working with your clients' children and heirs. Are there ways you can more actively engage the next generation?

What steps are you currently taking to prepare your firm for NextGen clients? How committed are you to modifying your practices, procedures and even team composition to achieve that goal?


Like this blog? Click "Follow" in the upper right-hand corner to receive all the eLibrary Blog updates!
Topics: Risk Management