What We Know About "The Best" Financial Advisors

Great success doesn't just appear out of thin air. It's difficult to achieve and takes patience, time, and focus. While many advisers in varying situations can experience success, there are several traits commonly held by the best of the best. We've had the honor to witness many of these traits first-hand, through our work with the top financial professionals in the industry today. Here's what we've observed: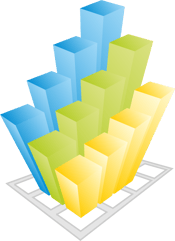 They know not to internalize or take things personally: The financial planning and investment space is a difficult business. It requires a trust that is not always present, even between the closest of friends. Therefore it takes some patience and resilience to really succeed. Like many pursuits, you may hear 'no' a lot more than you hear 'yes' and you're likely to have a longer lead-time for many clients than might seem ideal in your mind. This isn't necessarily a reflection on you, but rather the process. The sooner you feel at ease with the environment around you, the less you will allow the "less successful days" discourage you from experiencing your most successful and rewarding days.
They are proactive rather than reactive: Any seasoned financial adviser will tell you that it's unrealistic to think that you can address every unexpected occurrence in a proactive manner. However, you can act proactively in a situation by: 1) taking a step back 2) gaining a clearer perspective on the situation and 3) planning proactively in the moment to either address that problem in the future or come up with a way to avoid it all together. Too often, people short-step opportunities to put processes in place, only to end up addressing the same things over and over again, re-creating the wheel every time. Avoid this by being as proactive in your thinking as possible.
They promote honesty at all levels: This should be a given. Honesty is important at every level, down to the smallest transaction or interaction. Small or large, the moment you let your integrity slip in this industry, you may as well be playing with fire. Both your clients and your team members should know that they can operate in a safe space when working with you. The more you can do to sincerely exude this sentiment, the more people will want to work with you.
They work from a foundation of beliefs and values: While honesty is a given, there are other core values and beliefs that shape your business, your execution of that business, and your future vision of your business. These need to be crystal clear to both you and your team. The more you understand and live in alignment with your values, the more sincere you will appear (and actually be!) to clients. Take a few moments to consider the reasons you started in this business and jot them down. Which of these are still apparent? Which have changed? What values do they bring up in you? How are you executing this today?
They find validations in their beliefs and their clients' success: Many financial advisors are constantly seeking validation. This is true of any profession of course, but in certain circles this manifests itself as "bigger is better" when this is not always a true measure of success. If you look for ego-driven validation from others, then neither you nor your clients are likely to be happy in the relationship or with the results. ClientWise got its name through our belief that advisors should be invested entirely in the needs of their clients and devote their time to truly becoming ClientWise. This shift is paramount in building strong partnerships with your clients.
They achieve clear communication: Communication is key. Advisors need to be able to communicate clearly with their team members, their centers of influence, and, above all their clients. Effective communication is not as straightforward as it may seem, especially in situations in which you are managing something as sensitive as peoples' assets. There are bound to be several layers to communication that involve picking up on what is not being said. Which is why everyone from the newer advisors in our Business Builders Quarterly Workshops, to the seasoned advisors in our Building the Billion Dollar Business Workshop, have taken full advantage of the communication skills we incorporate into these workshops. Some advisors have even signed up for our Certified Financial Services Coach Training Program™. This six month, intensive course in coaching skills focuses specifically on the communications skillsets that coaches (and financial advisors alike) need to improve upon in order to run a successful business.
They are exceptional leaders: In case you haven't picked up on it from this blog (or many of the others we've posted) the qualities mentioned above are also qualities required of great leaders. The best financial advisers are great leaders. They are competent at leading their teams and their clients to success, and ensure their own accountability in doing so. In fact, accountability and partnering are some of the top reasons financial advisers come to ClientWise for coaching. When you are expected to be that accountability partner for everyone else in your business, it becomes evident that you also find this for yourself.
These skills aren't always innate, but they are often consciously developed. They are also an incredibly important aspect of what we do at ClientWise. As coaches, we aren't hired to tell our clients what to do, as a consultant might be. Rather, we learn in partnership with our clients what these necessary traits, characteristics, and mindsets are in their businesses, and work with them to develop these to the best of their ability.
Powerful coaching questions from this article:
How aligned is your business with your vision and values?
Do you feel as though you are truly stepping into your role as a leader in financial services and how do you see yourself acting in this capacity?
What are the qualities you see in yourself that factor into your success as a financial advisor or leader?
Topics: Business and Operations Management Business Development Learning