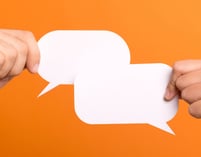 Communication skills are the most important skills that you need to be successful in any industry. For financial advisors specifically, being able to effectively communicate with clients or potential clients can make or break the relationships. When advisors take the time to focus on improving their communication skills, they witness better connections with clients and find it easier to differentiate themselves.
So, advisor or not, we'd like to challenge you with this:
Just how good are your communication skills?
---
Take a few minutes to conduct an honest self-assessment of your current approach to conversations, relative to the following statements, and it can help you identify both your areas of strength as well as those areas that may need additional focus and commitment.
Once you submit your answers, you will receive your analysis in your inbox in about 2-3 minutes.

Interested in improving your communication skills and significantly improving your business?
Our ClientWise Certified Financial Services Coach Designation now has open enrollment for the next course.