Here at ClientWise, we often talk about the vital importance of "teaming." We believe teaming is the future of the financial advisory business – allowing you to better serve your clients, enhance the value of your enterprise, and provide an exit strategy for when you leave the business. Yet, while much of our guidance on the subject is highly practical and tactical in nature, it can be exceedingly difficult to meaningfully quantify the impact of those efforts.
That's why ClientWise and Legg Mason partnered to conduct a major research study of advisory teams – to document the current trends in teaming in the wealth management industry. In the study, we explore the correlation between those various activities and firm success. With considerably more than 300 respondents, significant representation of both firm principals and junior partners, as well as a solid dispersion between wirehouse advisors, independent broker-dealer advisors and RIAs. We firmly believe the study makes a compelling case for what works in successful financial advisory teams.
Highlights of the study
Not surprisingly, the industry remains firmly rooted in the sole practitioner mindset with nearly half (49%) of all teams led by a single principal owner. The data clearly shows, however, that when teams bring in a 2nd, 3rd and 4th partner, firm revenue increases exponentially. The opportunity for team-based growth in most firms remains tremendous; that is once mindsets can be shifted and the traditional top-down, task-based leadership approaches discarded.
Here are a few more statistics from the research study: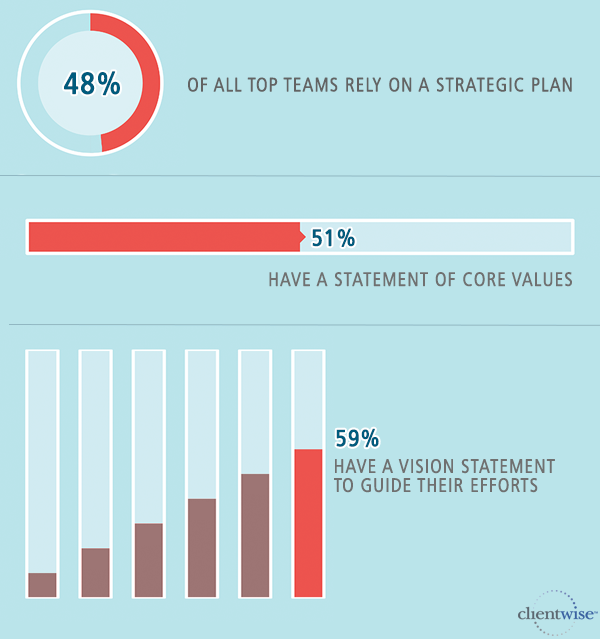 Source: Legg Mason | ClientWise Wealth Management Team Research
The vast majority of sole practitioners essentially react to the day-to-day challenges that confront them, top teams rely on these tools to keep them focused and on-track towards achieving their longer-term goals.
Start by making a commitment to tackle the creation of these three essential tools highlighted above: a strategic plan, core value statement, and vision statement for your business. Once a quarter, review and revise them as necessary to reflect changes to your firm focus (that's what 40% of top teams do). Lastly, take another page from the book of nearly three-quarters (73%) of top teams and give these efforts teeth, by working to better align your performance measurement and compensation structures to reflect team goals as much if not more than individual goals.
The data bears out the fact that teams continue to be significant drivers of firm success as well as the success of individual clients through the specialized services and expertise they provide. True team identity, shared team responsibility, and shared team leadership are the fuel that can help sustain that success and continued growth.
The study offers insight into:
1. How much financial success teams currently are experiencing
2. The number of leaders on each team
3. The use of common team tools and their relation to the team's success
4. The use of team and individual performance assessment methodologies
5. The efficient use of team meetings to achieve productive outcomes
Click to Download the Wealth Management Report
Coaching Questions from this article:
Actively identify where collective thinking or collective work would be more powerful than individual thinking or individual work. How can you go about turning these into opportunities for team collaboration rather than solo work?
Think about the current interpersonal dynamics of your team. What actions can you take to break down existing silos and encourage more interdependence?
Examine your performance measurement and compensation structure. What changes could you make to shift the balance from rewarding individual accomplishments to rewarding team accomplishments?