It Pays to Know Your Type
Building Better Team Cohesion and Communication
Why do you do what you do? What motivates you and what causes you stress? How do you respond to conflict? How do others on your team differ?
Self-awareness is the key to growth and improvement – both for you personally, as well as for your team. However, to genuinely understand your behaviors and motivators, you need an objective measurement tool. Relying on simple subjective assessment is just far too arbitrary, and often grossly inaccurate.
The financial advisory business model has its own unique challenges and dynamics. To address these, we adopted the ClientWise DISC Assessment® – an assessment that provides insight into each team member's natural and adaptable behaviors styles and preferences. DISC centers around four different behaviors: Dominance, Influence, Steadiness and Compliance.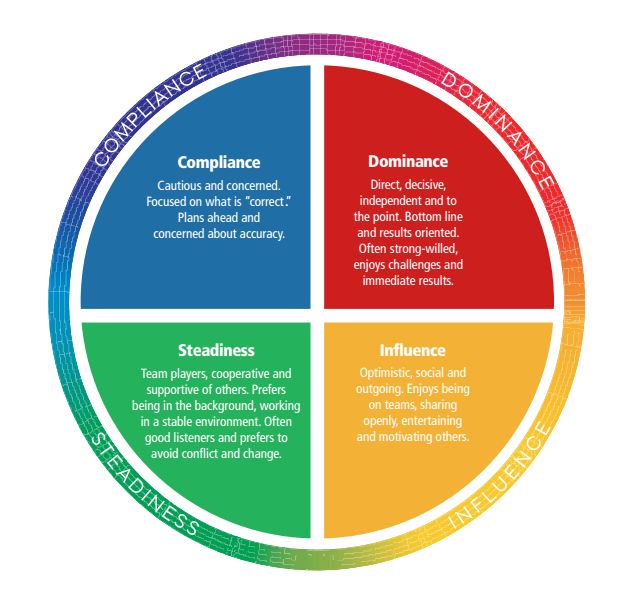 Rather than relying on emotion and gut instinct, the DISC Assessment provides a standard framework to help team members improve their understanding of how they work together and modify how they interact with each other in light of that new information.
The process reveals deeper insights into individuals and teams in the areas of workplace, leadership, management, sales, hiring and employee development – matching people with roles and responsibilities more accurately and effectively. For example, at ClientWise, most of our Business Development team members posess a "high D" and a "high I". This means they are direct, results oriented and put an emphasis on shaping the environment by influencing or persuading others, which sure comes in handy when in that role.
An ongoing impetus for change
Not only do DISC assessments show you whether everyone on your team is working in a role that fits their natural style, they serve as impetus for organizational change and team evolution. Each individual report provides exercises to help team members identify the behaviors that limit their effectiveness and take action steps to positively adapt to those behaviors. And by sharing DISC profiles among team members, over time they begin to develop a deeper understanding of what makes each other tick, and how best to interact with more positively, effectively and productively.
Make sure that your DISC assessments are frequently revisited. Update team DISCs anytime you add to and/or modify teams as roles and responsibilities change. And as you bring on new team members, make sure you don't forget to have them take a DISC assessment as part of the onboarding process.
Coaching Questions from this article:
What are the personality and behavioral styles of each member of your team? What motivates them and what causes stress? How do they communicate and respond to conflict?
Match the individual personalities of your team members to their roles and responsibilities. Do you have the right people in the right roles? Are there responsibilities that could be reallocated to improve team chemistry?
What can you do to facilitate the sharing of DISC profiles among team members to foster better communication and cooperation?
Topics: Team Development Learning