After spending many hours helping our successful financial advisor clients achieve even bigger and bolder success, the shoe is now on the other foot.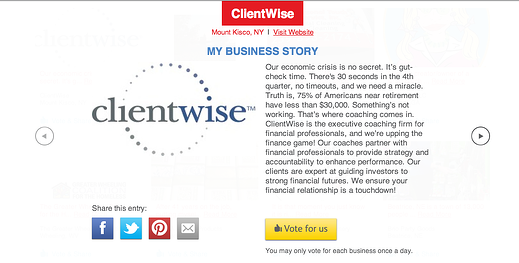 ClientWise has jumped into the Small Business Big Game Competition, sponsored by Intuit. The winner is granted the opportunity for a commercial premiere during the Super Bowl, as well as other great prizes. As a small business with a big message and a unique story, we thought we'd give it a shot. ClientWise is in need of your help!


Here's where you come in: WE NEED VOTES!!!!
You can vote for ClientWise by clicking here http://intuit.me/1aoRMJF.
You can cast multiple votes, though not more than once per day. If you really love us, make it part of your routine! Bookmark the link above and cast your vote first thing along with your morning coffee!
Don't forget to share with your friends via social media! As they say, the more the merrier. You can also follow #TeamSmallBiz to get a live update on the competition. To lean more about the competition please click here.
Thank you for your partnership and support!
Wish us luck!