Your Financial Advisor Summer Checklist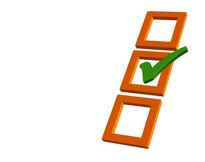 Summer provides an excellent opportunity for financial advisors to work ON their businesses in addition to working IN their businesses. While many of your private clients might be away for the summer months, and many of your corporate clients may be rolling into slower summer hours, you have the opportunity to prepare for an incredibly strong finish to the year.
We've found that many advisors realize the end of the year is upon them much too late to make the kind of change that really impacts their success. They often don't make the changes they need to until after the summer lull. Avoid this mistake and make the most of your time, by taking action now. Focusing on the items below over the next three months will provide some much needed structure (and success) for your financial advisory business this summer.
"Keep. Stop. Start": This exercise, created by ClientWise, is included in almost every workshop curriculum we hold. It's essentially a measure of what's working and what's not working for each participant's business. It asks financial professionals to look at what they do each day—everything from the emails and phone calls they make, to the preparation for client meetings and sales pitches—and analyze what they need to keep doing, what they need to stop dong, and what they need to start doing.
Reassess your processes: Once you know what is and isn't working for your business, determine how it all comes together. I recommend pulling your entire team together for this, as they are likely to be as involved in these processes as you, if not more so. It will give your team the opportunity to see how their individual roles fit together, and how they uniquely impact the business in their own right. It will also provide you the opportunity to better understand your team members' personal perspectives on what they do, and address any inconsistencies with your own perspective. As with most things we advise at ClientWise, this will have the most lasting impact if done in partnership with your team members.
Assess your human capital: Now that you have a more realistic sense of your team members' roles as they relate to the overall process of your business, consider what's missing. If you're thinking of hiring someone to fill a gap, but aren't completely ready to commit, consider hiring a summer intern. These months provide the perfect opportunity for you to hire a student to help you with your business. Of course, your ability to hire an intern may depend on your firm's policies, but either way, the exercise will allow you to assess your human capital needs. You'll have a clearer vision of the type of team member you're looking for should a hiring opportunity present itself.

Build a Team: If you are a solopreneur visualizing your future team as you read this article, this summer might be the perfect time to think about building that team. Consider networking with other financial advisors who, like you, are in the office trying to make the most of the "down time." Invite them out to lunch or to play a round of golf. Discuss your client planning approach, business strategy, and investment tactics. Even if you aren't ready to make the leap, at least you'll be doing the research necessary to make a more informed decision or approach to teaming later on. These introductions and conversations are very valuable in their own right.
Maybe you won't get the face-time you need with clients or centers of influence this summer. That doesn't mean you can't make great strides to prepare your business for when you can. Use these months wisely and you'll find you're well ahead of your colleagues when fourth quarter rolls around.
Powerful Coaching Questions from this Article:
1. How clear are you on how efficiently your business runs day-to-day?
2. How much of the work that you and your team members do each day is in keeping with your goals and vision for the future of your business?
3. If you haven't taken the leap to build a team, or a partner with another advisor, what is holding you back from doing so? Is it a conscious choice or rooted in something else?
Topics: Business Development Team Development Business Planning