Profit or Purpose: What Truly Drives You?
People work for three reasons: to create safety, to create freedom of choice, and to create meaning in their lives. Yet all too often, we tend to wrap all three of these things in purely monetary terms – obscuring what genuinely motivates us.
Every successful wealth management team leader that I have ever spent time with, however, has been driven by something far deeper than mere financial reward. They are driven by something that fuels continued business growth, inspires their service delivery model, governs the manner in which they've built and lead their teams, and shapes the ongoing satisfaction they take from their chosen career. So, what drives you?
For some of you, identifying that inner flame may be easy. For most, however, it will likely be a somewhat more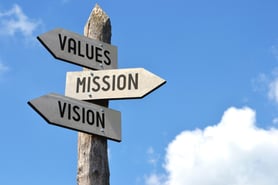 difficult but worthwhile endeavor.
Why is this an important exercise? Because once you are able to lock-on to that thing that drives your happiness and satisfaction, it becomes the preeminent guiding principal through which all important thought processes and decisions should be filtered – not just related to your practice but also your life. What's more, when your focus shifts from monetary to self-fulfillment concerns, you tend to make decisions that are motivated by long-term rather than short-term interests.
In order to help you to define what you want from your work, take a few minutes to think about and answer the following four questions, being careful to avoid financial motivations:
1. What's the one thing you most want to create, build, or achieve in your life? Think in terms of a specific accomplishment that would give you the greatest sense of personal satisfaction and happiness (e.g., I'd like to be able to make an appreciable difference in the lives of as many disadvantaged kids as I can).
2. Exactly why would the accomplishment you identified give you such a sense of personal satisfaction?
3. Ten years from now, what would you like people to say about your characteristics as a person and why?
4. What three values (e.g., important concepts/convictions or rules to live by) do you want to guide all aspects of your life and why are they important to you?
Once you've completed the exercise, look closely at your answers. Use the information to craft no more than one or two sentences that succinctly summarize what you personally want most to achieve in life, and refer to that statement each time you address an important strategic business decision.
Coaching Questions from this article:
Think about your takeaways from this exercise. What steps can you begin to take to start operationalizing your personal motivations?

Take a close look at your practice's stated vision, mission and strategic plan. How well do all three align with what drives you personally?

If disconnects exist, what short-term modifications could you easily implement to bring them closer together? What longer-term changes might you consider?