Want to Attract New Female Clients?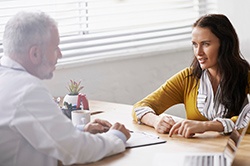 Over the last few years, there have been many articles published about the increasing economic power of women both here in the U.S. and globally. By 2020 (essentially right around the corner) women will control two-thirds of this country's $22 trillion in private wealth, along with two-thirds of our $12 trillion in annual spending. However, few wealth managers have made any efforts to meaningfully adapt their service model to the unique needs and preferences of women clients.
Focus on personal connections not products or performance
According to recent research conducted by the Boston Consulting Group, during the past year only 14% of wealth managers surveyed had conducted any form of targeted marketing initiatives (e.g., events or seminars) that were specifically directed towards women prospects. A mere 2% indicate they've made any effort to modify their firm's approach to service delivery or client communications. Yet the very same survey shows that women investors clearly seek a different kind of advisory relationship dynamic. Only 10% of women identify their financial advisor as their principal source of investment advice while 30% trust financial advice from their friends and family more. Half of all women surveyed say they want their advisor to know them on a more personalized level, and 40% feel as though financial marketing efforts should better reflect the unique challenges women investors face.
Perhaps this explains why of those women who had switched advisors, 65% did so as a result of ineffective or insufficient client service and a general feeling of being misunderstood by their previous advisor.
Firm composition should reflect ideal client composition
We're quickly moving to the point where women will control two-thirds of the nation's private wealth, yet continue to make up less than one-third (30%) of the advisory ranks. It's nothing short of a recipe for growing dissatisfaction. Keep in mind that it's those very same qualities women often value in an advisory relationship (e.g., empathy, strong listening skills, and high-touch communication) that female advisors tend to excel at in forging client-centric relationships. If you wish to be a firm that endures well into the future, this is perhaps the biggest challenge you will need to address over the coming years.
In the meantime, however, there are some essential changes you can make to "business-as-usual" that will help strengthen ties and solidify relationships with your women clients. Make sure that conversations focus far more on personal challenges and planning rather than specific investment strategies or products. Whereas men tend to focus much more on identifying solutions to a problem, women often find much more value in spending more time on fully identifying and understanding the complexity of an issue before even beginning to explore possible solutions.
Most importantly, look at the amount of time you currently spend asking questions, listening presently, and building an intimate understanding of the issues that matter most to your female clients and then double it! That alone, can make all the difference in the world.
Coaching Questions from this article:
What steps are you currently taking to attract women clients? How committed are you to modifying your practices, procedures and even team composition to achieve that goal?

Consider the current age and gender composition of your team. How reflective is it of the ideal client mix you'd like to have? What steps will you consider taking to alter that composition over the next 3-5 years?

What would happen if one of your key male clients were to lose his job or die and his wife became the client relationship principal? What steps can you take to strengthen your personal relationships with spouses?
Topics: Client Acquisition Team Development Client Engagement