Advisor Growth Strategies: Part One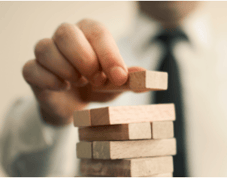 Ask any advisor about their strategy for growth and nine times out of ten their response will focus on the acquisition of new clients either through loyal client advocates, professional advocates or the acquisition of one or more practices. While all are certainly viable approaches to building your business, far too many practices miss the low-hanging fruit – the opportunity that's right there in plain sight…organic growth realized through the expansion of existing relationships.
Harvesting opportunities through exisiting relationships
Despite the prevalent belief on the part of most advisors that they manage the lion's share of their high net worth clients' assets, the data simply doesn't concur. According to a survey of wealthy investors conducted by Pershing Advisor Solutions, on average clients entrust their primary advisor with roughly 60% of their assets. In essence, that means a $150MM AUM practice has $60MM in other existing client assets that are being held away.
5 ways to gain a greater share of wallet
You've already established a personal relationship as well as a high degree of trust with your clients. The hard part is done. But all too often, once the client is in the door the marketing of your capabilities stops. Yet wealthy clients regularly have something going on in their lives (e.g., inheriting money, selling a business, the birth of a grandchild) that provides you with numerous opportunities to support their needs.
The following are just a handful of areas where enhanced focus can dramatically improve your existing client asset gathering efforts:
Communicate and engage more frequently – Every opportunity you have to speak with or communicate to a client is an opportunity to gather pertinent information about their lives, their financial challenges/fears, coming needs, and potentially to uncover new opportunities. Assume that your clients have assets elsewhere and develop a list of indirect questions to use in probing for those assets such as, "As we strive to be more holistic and comprehensive in our planning, we're finding that many of our clients hold significant assets in retirement plan accounts that we don't manage. To ensure proper portfolio diversification and minimize risk, it's extremely helpful for us to know what other assets are held outside of our firm. Could you share that information with us?"

Leverage your client reviews – Make your client reviews more about future planning than past performance. Too many advisors focus heavily on the latter with only a cursory discussion of the former. Use these meetings to dig deep into future needs and opportunities. Ask clients in advance to bring along their previous year's tax forms and retirement plan statements so that your team can review them to help improve the tax efficiency of their investment portfolio.
Reinforce your value proposition – You should be reinforcing the story around what you do and the value you bring to clients whenever possible – especially in light of the new DOL Fiduciary Rule. Make sure to emphasize the holistic nature of your firm and the goal of assuming as little investment risk as possible in order to achieve the client's long-term goals. It's a conversation that easily opens the door to discussing other assets and your need to see the whole picture in order to help ensure that those objectives are achieved.

Formalize your planning process – A well-structured goals-based wealth planning process can be one of your greatest tools in uncovering hidden assets. It provides a framework for aligning ALL of a client's assets against their essential, discretionary and aspirational needs.

Broaden your service offering – Whether offered in-house or through a trusted third-party relationship, the more comprehensive you can make your offering, the greater the likelihood of attracting additional client assets. Clients may view your firm narrowly as a financial planner or asset manager. Offering them a more robust picture of a practice that can integrate their insurance needs, mortgage and lending, and/or provide estate planning services can quickly attract additional assets.
Of course all of these approaches are predicated on delivering an exceptional client service experience. But done well, they can unlock new opportunities to serve clients and better demonstrate that the fees they are paying you are justified – all while positively impact your bottom line.

Coaching Questions from this article:
What is your growth goal for the coming year? How much of that might be able to be generated through an increased share of wallet?

How effectively are you capturing pertinent data about your existing clients? What actions can you take to improve both the quantity and quality of that information?

What do you think your clients would say if asked to describe your firm's value? Does that correspond to your vision of how you WANT to be perceived?

When conversing with clients, how much time do you spend discussing performance rather than the challenges you could help them overcome and the services you provide?