Rethinking Your Personal Productivity Tech Stack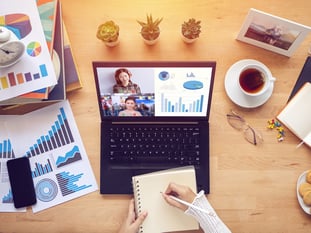 Moore's Law states that every two years the number of transistors on a microchip will double while over the same period the cost of computers will halve. Rather than a traditional law of physics, it's an observation and projection that we can expect the speed and capability of technology to regularly increase while the corresponding costs decrease.
Yet many advisors get complacent when it comes to technology. If something has served them well thus far, why switch horses in mid-stream? As Marshall Goldsmith points out in his book What Got You Here Won't Get You There, "successful people believe there is always a link between what they have done and how far they have come—even when no link exists. It's delusional, but it is also empowering."
No doubt, you and your team have probably become incredibly comfortable utilizing whatever personal productivity technology is in your current tech stack. But what a tremendous missed opportunity if you allow complacency to keep you from adopting something that may be quicker, more robust and more efficient! A year ago, nobody saw Zoom coming. All of a sudden, the environment shifted and created this space for a new, more user-friendly technology to emerge – leading countless business professionals to abandon Webex, Skype and GoToMeeting. Before that, the same process occurred with instant messaging platforms. Remember just a decade ago when your choices were pretty much limited to AOL, IM (AIM) or Yahoo IM? Today, messaging apps like Slack, Facebook's Workplace Chat, HipChat, Flock and a host of others far surpass the capabilities of their predecessors.
The simple truth is this: If you haven't taken a close look at your firm's personal productivity tech stack within the past 12 months, it's time to kick the tires on new tech like Microsoft Teams and Google G Suite given the incredible amount of investment that's been sunk into the technology to enhance ease of use and efficiency for businesses.
The following represents just the tip of the personal productivity iceberg, grouped into nine core functional areas to make it easier for you to explore:
Collaboration
Project Management (includes Time Tracking)
Document Storage / File Sharing
Meeting Platforms (including Video & Audio Conferencing)
Instant Messaging Tools
Document Co-Creation Tools
Social Networking
Scheduling
Virtual Team Engagement (Games)
At this point, the speed of technology shows no sign of abating. What's worked effectively to this point may certainly continue to work in the future, but are you willing to settle for good when great may be right around the corner? Is familiarity enough justification to miss out on opportunities to measurably improve team engagement, productivity and capacity?


Coaching Questions from this article:
How much do you embrace personal productivity technology in your practice? In which of the above outlined areas would you say that you are behind the curve?
How can you as a team come together to explore and assess opportunities to integrate new tools that might improve the efficiency of your operation?
With everyone working remotely for the time being, how might you better track your firm's OKRs? What productivity platforms and/or time tracking tools could help create stronger team cohesiveness and coordination?


Like this blog? Click "Follow" in the upper right-hand corner to receive all the eLibrary Blog updates!
Topics: Social Media Team Development Learning Team Engagement