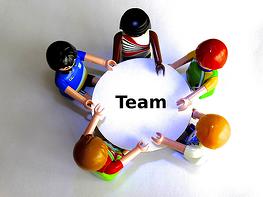 As I mentioned in Part I of this blog, there are several reasons to start a team. Perhaps you've reached a point where your production has plateaued and you need to make a change to see significant increase; maybe two or more specializations are coming together to form a more comprehensive group; perhaps an up-and-coming advisor is ready to take on greater responsibility and learning; or else an older advisor starting to think about retirement and wants to begin laying the groundwork for his succession planning.

No matter what your reasons, there are many ways to prepare yourself for success when you start a team. In addition to those things mentioned in the previous blog (clear job descriptions, well-balanced teams, organized meeting structure, clear asset division and a team vision) the most successful teams have the following in common:
Clear goals & metrics: What are the steps you need to take—both as a team and individuals—to achieve the vision for your team? What are the goals and the action steps leading to these goals that will help you achieve this vision? Further, how are you measuring these goals to make sure that your team members and your team overall is staying on track toward these goals? Giving your team members the responsibility of measuring and tracking their own goals will instill a greater sense of accountability and accomplishment within them.
Collaboration & open communication: In delineating this vision and the goals and steps to achieve it, bring in the perspective of your team members. Using a collaborative approach in your planning will strengthen the process and create greater commitment amongst your team members to achieve their goals. Further, it will help your team members better align their individual goals with the overarching goals of the team, and provide the confidence to voice their opinions and contribute further to your team vision.

A trusted network: Obviously your team cannot provide everything for all of your clients, so who are the key players in your network who can? Think about the experts in your circle who can provide the services demanded by your high net worth clients. The obvious professions are the CPAs and lawyers, but what about looking more closely at the professionals within your specific niche? Maybe a therapist would present some synergy in the event that you specialize in working with divorcees. Or a business coach if you work with business owners and entrepreneurs. Creating such a network will ensure that your clients have the best, most comprehensive care possible, and will also provide you with a steady stream of referrals.
A coaching agreement or outside adviser: When teaming, it's crucial to enlist the partnership of an outside perspective. Make sure there is someone available to provide perspective, whom everyone on the team is in agreement about hiring. This is crucial in times of disagreement or decision-making, when you require the partnership of a neutral party. A coach can also help with the actual process of teaming, to ensure you stay accountable for the actions involved, and honest to the vision you've created.
There are a lot of considerations that go into creating a team, but starting with the basics above and in Part I of this blog will give you some structure and organization as you move forward.
Powerful coaching questions from this article:
Considering your team vision, what are the day-to-day, week-to-week, and month-to-month actions you and your team need to take to achieve this vision?
How willing are you to bring your team members into the process of collaborating on these goals and the steps to achieve them?
Who do you need to bring in from outside your team—expert professionals or coaches—to help you stay on track toward and achieve your vision?