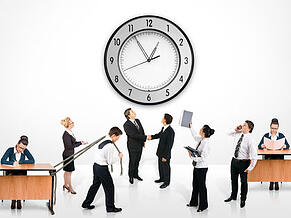 Sort of like starting family,
there is never a "good" time to start a team
. It will always take more time,
attention and energy than you feel you have to give; but, if you take the necessary steps up front, you will definitely learn something and you are likely to increase your business and performance in the process of creating your team.
The most successful financial advisory teams I've worked with have started teams for a variety of reasons. While all great reasons, none of the scenarios I've encountered presented the "right time" for these advisors to leave their solo-practice behind.


They all had to deal with adjustments, the compromise necessary for collaboration, the difficult conversations about money, the leap of faith it took to trust someone else with their clients, and finally, the admission that they "can't do it alone." None of these came easily… but they came with greater ease than they might have for other advisors, because in every single case, the most successful advisors all had the following things in common:


Clear job descriptions: Make sure you and your team members have a crystal clear understanding of what is expected of them. Even if the job descriptions you use initially are "working templates," have some clarity around everyone's job up front. Who reaches out to clients? Who files paper work? Who handles your marketing efforts? Who prospects clients? You can always adjust expectations later, but this will save you a lot of time and energy explaining and coordinating roles once you're up and running.


Well-balanced teams: Make sure you have enough partners in the financial planning space to share the responsibilities of leading the team and serving your clients, but not so many that you can't provide for the human capital to support them. Having a team that is too top-heavy can lead to overwhelmed support staff, struggling to meet the demands of the team leaders, and ultimately the clients.


Organized meeting structure: This applies both to when meetings are held and to what happens in those meetings. Meetings are a huge time-waster for new businesses because they provide too much time to discuss actions and detract from the time allotted to execute on them. Make sure you have clear goals for every meeting you set, and keep track of what comes out of these meetings to determine their viability. Keep your meeting structure and schedule as consistent as possible so your team members can get comfortable with the routine and expectation.

Clear asset division: When discussing how your team is going to divvy up its assets, leave nothing to the imagination. In a partnership for example, is it 50/50 across the board or maybe 30/70 in some scenarios depending on who sources the client? Cover every possible scenario. Plan for it and put it in writing. Have all parties review it, sign it, even commit it to memory if they have to. Just be sure that everyone, at least the key players, agree on what this division looks like. If an agreement can't be reached, it might be a sign that moving forward with the partnership or team isn't the best choice.


A team vision: Your team should have a clear vision of what they are working toward and why. This may include having a specific niche for your business. Perhaps you only work with family owned businesses and specialize in situations where they are passing onto a younger generation. Maybe the vision is more focused on how you work with clients or the outcome you achieve for them. The idea is to be clear about the motivation behind what you are doing, so that this comes through in your efforts with each client day-to-day, week-to-week, and month-to-month.
Powerful Coaching Questions from this Article:
Consider carefully the hesitations you have about teaming and determine whether they are really enough to hold you back, or if they even have the potential to change in the near future.

Do you have a clear understanding of why you want to build a team and the roles you require to fill it?

What is your vision for your team and the driving force behind your desire to create it?