Key CEO Behavior #26: Meaningful Individual Goals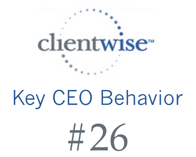 Financial advisors work in financial services, but this doesn't mean they are motivated entirely by finances… or at least it shouldn't. Your work should have meaning to you and everyone with whom you work. Especially as a team leader, you need to drive this idea home for your team members as well, which brings me to another of our Key CEO Behaviors, #26. As a leader, consider your ability to recite the following: "I encourage and support team members to create meaningful individual goals that are related to team goals."
This is a hugely important factor in developing an incentive in your team members that goes beyond the motivation to make money. You should understand what this motivation is for yourself, and then pass that motivation on to your team members. They shouldn't be motivated to do this just because you ask them to, however. Rather, as stated in the Key CEO Behavior, these should be meaningful individual goals that are related to their team goals, but not identical to them. Consider the following as you begin this process with your team members:
It's not only about the money: I know I already said this, but it bears reiterating because this goes not only for you and your team as the advisors, but also for your clients. It's paramount for you to create a well-balanced relationship with your client that is not only about their assets or investments, but also about their goals outside the picture of their finances. What do they want to achieve, do, or remember? Here is a list of questions to go through with your clients to better understand those desires that might not be resting at the surface.
Every goal should be connected to a belief: WHY does your business function the way it does, and how to your beliefs and the beliefs of your team members factor into this? An AUM goal all well and good—having something targeted and specific to work toward is important—but it is somewhat irrelevant if it isn't connected to something deeper and more meaningful. Numbers have a way of changing rapidly, and sometimes without reason, in this marketplace. There always needs to be a grounding force within your control in the event that the numbers are not.
Every victory should reinforce their connection to their goals: Don't hesitate to celebrate even the smallest victories with your team members. This will reinforce their good work and also provide an opportunity to connect that success to their goals, values and beliefs. Be direct about it. Ask them what was significant about the goal, what motivated them to pursue it, and how they feel that was tied to their beliefs as an advisor (or other role) on your team.
Acknowledge the desire to drift from these beliefs and goals: No one is perfect. It's natural to drift from the foundation of your reason for wanting to make money, but it can't be addressed if it isn't acknowledged. Be open with your team members about the fact that you, even as their leader, have experienced a separation from your values at times, but that you do everything you can to get back on track as quickly as possible. This will allow them to acknowledge the moments in which they do forget the core beliefs that drive them, and make a correction.
Capitalize on the tendencies of the younger generation: Likely some of your team members are younger than you. The younger generation of advisors (and investors) has grown up in a socially conscious environment. They are surrounded by examples of companies that thrive on creating positive social change. Ask them to recall their favorite stories of success that occur at the intersection of profit and positive cultural impact. If they don't know of any, ask them to research some. Then have them craft a story about their own experiences in financial services and see how this brings to light their desire for societal change.
Powerful Coaching Questions from this Article:
What deeper individual goals and beliefs does this inspire for you in relation to your business goals?
How do the beliefs of your team members further inform your individual beliefs and goals?

How can you make this a larger part of your business process so that it positively
Topics: Leadership Business Planning