Will the Fiduciary Rule Open the M&A Floodgates?
Over the last two weeks alone, I've had no fewer than eight clients say to me that they're throwing in the towel as a result of the DOL's new Fiduciary Rule. "You know what, I'm done. I just don't have the stomach to go through another reinvention of my business all over again. I successfully made the difficult transition from commission to fee-based business, but now my broker-dealer is going to demand that I jump through all these additional compliance-related tasks…I'm done!" So, what are the repercussions?
These are advisors who have been in the business for years. They've built strong, stable practices and have made more than enough to retire comfortably on. Rather than deal with the stress and headaches, they are seriously planning on selling the business internally within their partner network and exiting the business. For them, and I suspect many other advisors, the new rule appears to be a tipping point; the proverbial straw that breaks the camel's back and signals a potentially dramatic upswing in M&A activity.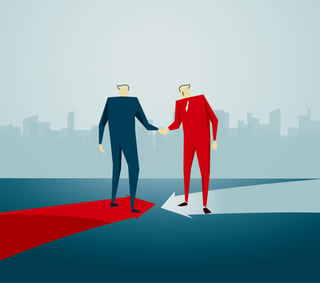 The rule is likely to provide a significant boost to buy-side impetus as well, placing a premium on those firms with sufficient scale to support the implementation of new systems and technologies that will allow them to more efficiently and effectively operationalize, document and report on processes and procedures.
Turning intent into action
Historically, M&A activity in the advisory practice realm has been a healthy dose of acquisitive desire and intent with little actual activity – or to throw a little Shakespeare into the mix, "full of sound and fury signifying nothing." The discussions are frenetic, but I see very few advisors making significant traction or consummating deals.
While FP Transitions has been successful at providing a well-structured and cost-effective turnkey solution for the acquisition of smaller practices (typically in the $25MM - $75MM AUM range), and a few other M&A firms have specialty groups that understand the advisory business model, the truth of the matter is that most firms never make it to the open market. It's a bit like the really desirable homes in your town. Everyone wants to buy them, but as soon as an owner decides they want to move, one of the neighbors gets wind and swoops in to buy it.
So, if you're an advisor sitting in any city in America and you're hungry, aggressive and inclined to acquisitive growth, where do you look?
How do you unearth acquisition candidates and begin to cultivate relationships with them before they ever hit the market?
Once you find a potential opportunity, how do you evaluate the business for fit, price and deal terms?
And just as importantly, what are some of the dos and don'ts when it comes to onboarding an acquisition in order to maximize its value to your future growth?
Most advisors think M&A is simply a matter of going out and buying a business. It's much more. There's an elaborate process involved that requires not only finding the right fit, but meshing cultures and processes, client service models, systems and teams. In future blogs, we'll delve more deeply into some of these deal consideration factors to help you start focusing on acquisitive growth opportunities.
Coaching Questions from this article:
Think about your long-term vision and growth strategy. How much do you want to rely on incremental organic growth versus acquisitive growth?

Begin to create an "ideal acquisition" profile. What types of clients would be the perfect fit? What services, processes and operational considerations would best integrate with your current operation?

Which potential avenues of communication (e.g., LinkedIn, service provider networks, local community networking) can you best leverage to announce your interest and begin connecting with potential sellers?
---
Our ClientWise Coaching Solutions combine sound industry knowledge with ICF certified Master Coaches to offer elite financial advisors complete and customized opportunities for growth in a variety of capacities.
Read one top advisor's story on how he partnered with ClientWise to achieved strong results:
Topics: DOL ruling