How Are you Connecting with Your Clients?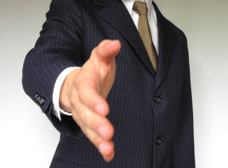 At ClientWise, we frequently address the importance of practice management. Practice management involves several elements of your business that are covered in our Professional Advisory Model™ (PAM™). The PAM™ includes areas such as organizing priorities, marketing approach, client acquisition strategy, team development and creating a professional advocate network. At its core, all of these elements work together in support of one thing—your ability to connect with your clients.
Recognizing this fact gives you the opportunity to take a slightly different perspective on your business. Think about all the moments of connection you have with your clients. Whether by phone, in person, at an event, online, via your website, or even through your team members, think about these various points of connection and ask yourself the following questions:
What is your voice? How do you come across to clients? Whether they are talking to you in person, reading about you on your website, or learning about you through a team member or external advocate, there should be a consistency to what they are hearing.
What is the tone of your communication? Slightly different from your voice, this question begs answers like "polished and professional" or "intimate and personal," or even "traditional." It conveys a tone to your clients as it relates to the management of their finances, and one they expect to see replicated throughout their interactions with you.
What is your objective in each connection? You are incredibly busy, as are your clients. Every point of connection should happen for a reason. Perhaps some are more urgent than others, but when you connect with a client, you should always have an objective. Maybe you need them to sign paperwork, or perhaps you simply want the opportunity to catch up and let them know you're thinking about them. Know what your objective is and be clear about why you are making the connection.
What are the next steps and to whom do these actions belong? If there are any steps that need to be made post-connection, what are they? Are they responsibilities that belong to you or to the client? How are both parties clear on what they are? Sum them up for yourself and for your clients before parting ways. Maybe after face-to-face interactions, these action steps are summarized in an email. On a website, they can be delineated through clear calls to action on a landing page.

How are you following up? More for yourself than anything else, your follow up after these points of connection should be like clockwork. How do you follow up with a client or perspective client after a phone call; after a face-to-face interaction; or after your first meeting? Is it via email or phone, and which mode of communication would be best used for each situation? Having clarity on this will make as much of a positive impact on your ability to have effective connections as it will for your clients'.
How frequently and consistently are you connecting? This important question is frequently asked in other industries about connecting with clients through social media, but it's important in all channels of communication. If you are going to engage with your clients, they should be able to expect to hear from you on a regular and consistent basis. Otherwise, you run the risk of appearing as though your communication has fallen off. Obviously, this is somewhat dependent on the channel of communication being discussed, but it should always be a consideration.
The key learning from this article is that it all goes back to the client. Your approach for connecting with your clients ultimately impacts every aspect of your business, as outlined by The PAM™. An added benefit is that creating clear expectations and consistency around connecting with your clients will make your role easier, and your process around communication much stronger.
Powerful coaching questions from this article:
How clear are you on the different points of connection you experience with your clients?
Can you identify the brand and voice your clients experience in working with you and is this apparent in every communication they have with you?
In what ways do you manage points of connection with your clients to create clarity for both parties?
Topics: Client Acquisition Communication Client Engagement networking,