Scale Your Business More Effectively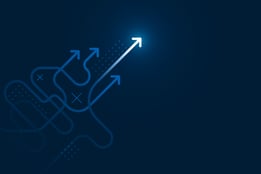 Capacity and Productivity. Any advisory firm that's serious about meaningful and sustainable growth must learn how to better control those two critical financial metrics.
Should I add staff and when should I add them?
Will productivity decrease as our enterprise gets bigger?
At what point should I start considering a merger or acquisition as a means of acquiring capacity and scale?
While profitability is important, it's your business' capacity and productivity that will give you the clearest insight into making these types of mission critical decisions. The challenge, however, comes in figuring out how to best align your strategic hiring plan to your current capacity and productivity as well as your plan for future growth.
Start by determining your firm's current productivity and capacity. They're simple metrics to calculate and enable you to more accurately scale the business going forward. If you're currently generating $2.1MM in revenue as a firm with three advisors, your professional productivity is $2.1MM/3 or $700K each. As you grow, and revenue increases, so too will productivity. But how do you decide when to hire and whether it's better to hire someone who's already managing around $700K (your firm's baseline productivity target) or if you'd be better served by hiring a service advisor who doesn't currently manage any assets to free-up some of the lead advisors' capacity?
It's time to break away from the old school approach of only hiring those who can pay their own way by bringing assets, and adopting a more firm-focused hiring approach. Sure, ideally you want each member to be profitable and productive, but a more macro approach to hiring affords you more flexibility to do what's in the best interest of your firm AND your clients.
6 Essential Productivity & Capacity Questions
Want to not only better gauge productivity and capacity but also find a way to leverage those factors in determining the optimal way to scale your business for the future? Take a few minutes to answer the following six questions:
Based on historical data, what would you determine to be your organization's optimal productivity per professional?

How does your current productivity compare, and what's your plan for building future capacity and capability on your team?

How can you improve your strategic hiring plan based upon your current capacity and productivity as well as your plan for future growth?

Are there new areas of expertise that should factor into any decisions about adding capacity (e.g., capabilities that could assist in attracting larger clients with more complex wealth management needs)?

Are you being disciplined enough in saying no to lower value clients in order to preserve capacity for better opportunities?

Thinking about your continuity and succession plan, how can you make the development of next generation talent a key aspect of scaling the business?
Ultimately, your goal is to achieve rising productivity, coupled with revenue per advisor increasing as the number of clients per advisor decreases (thanks to higher value clients). This allows you to spend more time with fewer clients while making the same amount of money - an optimal outcome for both you and your clients.
Keep in mind too that if the business is growing but you're not effectively scaling, you'll inevitably reach a point where you are over-working yourself and your team. That's when both advisor and client attrition begins…as deadlines are missed, service levels slip, and promises are broken. By not scaling up, you just may be unintentionally scaling down.

Coaching Questions from this article:
What's your firm's current productivity per professional and do you consider that level corresponding closely to being at full capacity?

Based on these metrics, how might you improve your strategic hiring plan for the year ahead and in anticipation of future growth?

Are there key areas of expertise that should factor into your strategic hiring plan – factors that might aid organic growth of the business in addition to adding capacity?




Like this blog? Click "Follow" in the upper right-hand corner to receive all the eLibrary Blog updates!