Finding the Right Buyer for Your Business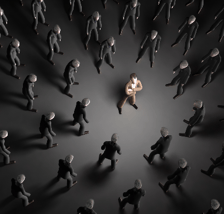 We've all seen the statistics that there are roughly 30-50 buyers lined up for every advisory practice that comes onto the market. It certainly seems to bode well for those advisors either beginning to contemplate an exit strategy or well down the road towards identifying a potential buyer. It's critical to understand that very often the "right" acquirer for your business is NOT the apparent highest bidder on paper.
Make no mistake; purchase price is certainly a major consideration. But there are a host of other factors that require careful consideration – not the least of which is the terms of the deal.
How do the potential buyer's interests and desires align with yours?
How long and how actively do you want to remain engaged in the business after the sale?
Does that align with the buyer's wishes?
Make sure that both parties have similar expectations regarding the scope of your future role, as well as the integration of your team. Remember that the lion's share of deal compensation will often be in the form of a promissory note paid off over time, and the value of the total payments will likely be predicated on client/asset retention and subsequent growth.
Sellers should be aware that while the traditional 6-12 month post-sale transition model still exists, more and more buyers today are looking to structure longer-term transitions where both parties work collaboratively for an extended period (often 3-5 years) before the seller eventually transitions out of the business.
More importantly, however, the ideal buyer should closely mirror you in terms of personal attitude and demeanor as well as the structure and culture of their firm. The integration of two separate businesses is one case where opposites may attract but rarely produce a successful marriage. Look for buyers who share your fundamental vision, mission, business philosophy and culture.
Do they share your commitment to building interdependent and collaborative teams?
Are the wealth management offerings and service delivery models of the two firms relatively consistent?
Do both firms utilize similar technology platforms?
While a potential acquirer with very deep pockets can be exceedingly seductive, he or she may not be the best fit for you, your team, your clients and ultimately your business. Never lose sight of your fiduciary duty to ensure the well-being of your clients even after you're gone. Make certain you find a strong cultural fit and synergy before you even broach the financial structure and terms of a potential deal.
Coaching Questions from this article:
Do you have a clear sense of what your firm is worth on the open market? How would you go about determining the value of your firm if a prospective buyer approached you tomorrow?

Begin to build an "ideal buyer" profile for your business. What vital qualities would be most essential to ensuring a perfect fit? What services, processes and operational considerations would best integrate with your current operation?

Which potential avenues of communication (e.g., LinkedIn, service provider networks, M&A specialists like FP Transitions) can you best leverage to announce your interest and begin connecting with potential buyers?