A History Lesson in Gratitude, Living and Laughing at it All
As we take time to give thanks and reflect on the relationships for which we are most grateful, we invariably recall certain history lessons that serve as important reminders to celebrate a life worth living.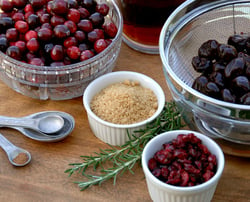 At ClientWise, our team is most grateful for all the many lives we have impacted, the long-standing relationships we have forged, and the milestones and traditions we have celebrated together. We also take time out to give thanks for one another, for what we have achieved together, and to listen to what's going on in each other's lives.
There's an old song from the 1930's Broadway play Scandals, originally sung by Ethel Merman and later made famous by Rudy Vallee called "Life is Just a Bowl of Cherries." The lyrics seem as fitting today as they were more than 80 years ago:
People are queer, they're always crowing, scrambling and rushing about
Why don't they stop someday, address themselves this way?
Why are we here? Where are we going? It's time that we found out
We're not here to stay; we're on a short holiday
Life is just a bowl of cherries
Don't take it serious; it's too mysterious
You work, you save, you worry so
But you can't take your dough when you go, go, go
So, keep repeating it's the berries
The strongest oak must fall
The sweet things in life, to you were just loaned
So how can you lose what you've never owned?
Life is just a bowl of cherries
So live and laugh at it all
Life is just a bowl of cherries
Don't take it serious; it's too mysterious
At eight each morning I have got a date
To take my plunge 'round the Empire State
You'll admit it's not the berries
In a building that's so tall
There's a guy in the show, the girls love to kiss
Get thousands a week just for crooning like this
Life is just a bowl of, aw, nuts!
So live and laugh at it all!
When you think of Thanksgiving and enter this year's busy Holiday Season, make sure you take time to care for your team, nurture the relationships that matter most, and enjoy living and laughing at it all. Relax and slow down. Have another piece of pie or run an extra mile on the treadmill. Just be sure to do whatever allows you to be present, to breathe, and to honor those in your life who help you love and laugh.
A few coaching questions for your consideration:
What is the lifetime impact and legacy your team will most be known for?
How will you celebrate together a life worth living?
How will you give thanks to those you hold dear?
Regardless of our individual struggles and obstacles, successes and opportunities, we all have so much to be thankful for. I feel personally Blessed beyond words and I thank you for making time to read our blogs and keep up with what's happening at ClientWise.
All the best, Happy Thanksgiving to you and yours!
Topics: Leadership