6 Social Media Secrets for Financial Advisors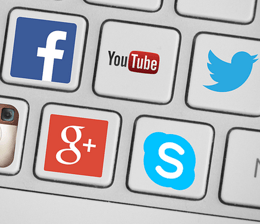 The social media space can be an overwhelming environment, especially in an industry in which it's just becoming "acceptable" or commonly practiced. Even our marketing team and digital community managers at ClientWise are constantly commenting on how much they do to keep up with the latest and greatest in the world of social media.
For many of you working at wirehouses or other large firms, this may not apply due to social media restrictions, but you'll want to keep these tips in your back pocket. Even the bigger firms are starting to hop on the social media bandwagon, so you'll be ahead of the game once they do.
Pick one platform to start: This might even be necessary based on what your firm allows, but don't overwhelm yourself by jumping onto all platforms at once. Use the one that speaks the most to the goals of your business, and get into a rhythm before tackling more. LinkedIn is a great tool for business, but Twitter might be even more beneficial if you're looking to capture people's attention with quick stats, figures, and thoughts.
Mention others in your social media posts: This generates the goodwill that social media is all about, by calling attention not just to yourself and your business, but to others as well. Not to mention that including a reference to Investment News or Financial Planning in your post will automatically generate more exposure for you (on certain social networks) and increase your reach to potential business partners and clients.
Post about your day: Some people employ a tactic in which they send out messages before or after meetings they've attended with partners (with permission of course, and this is obviously trickier with clients!). They gain a larger following by tweeting directly at the person they've met with and have the added benefit of being exposed to that person's network in the process. Include a little bit about the business you met with, and you have an advertisement for your business! This also serves as a mini business journal when you want to review your week or month.
Include pictures or infographics: The potential for using this tip will be determined by your firm. However, for those advisors who work independently, including an image or infographic will boost the exposure of your posts. At ClientWise, we are big fans of clear and easy to read infographics that articulate an immediate need for potential clients. Always include the origin of the image and make sure it's not copyright restricted.
Engage in other content! This is absolutely necessary. It's not only the point of social media (it's social, not one-sided), but it will also help you with your own content. Reading what your colleagues and clients have to say will keep you on the pulse of what others are doing. This will give you ideas for content, as well as the opportunity to respond to what others are putting out there. It may serve to position you as an expert in your field in front of a network in which you didn't previously have access.
Find a designated time to go on social media: Whether it's the first or last thing you do when you sit down at your desk, or a nice break with your afternoon coffee, try to make your social media engagement routine. The more consistent you are about going online, the easier it will be. If there's a certain time that you normally read industry news or go onto your personal social media, build it into that.
Powerful coaching questions from this article:
What, if anything, has been holding you back from using social media as a platform to grow your business?
Who in your target demographic might be using social media and which platforms do you think they are on?
What social media platform speaks most to your structure as a business?
Topics: Client Acquisition Social Media Business Development Client Engagement networking,