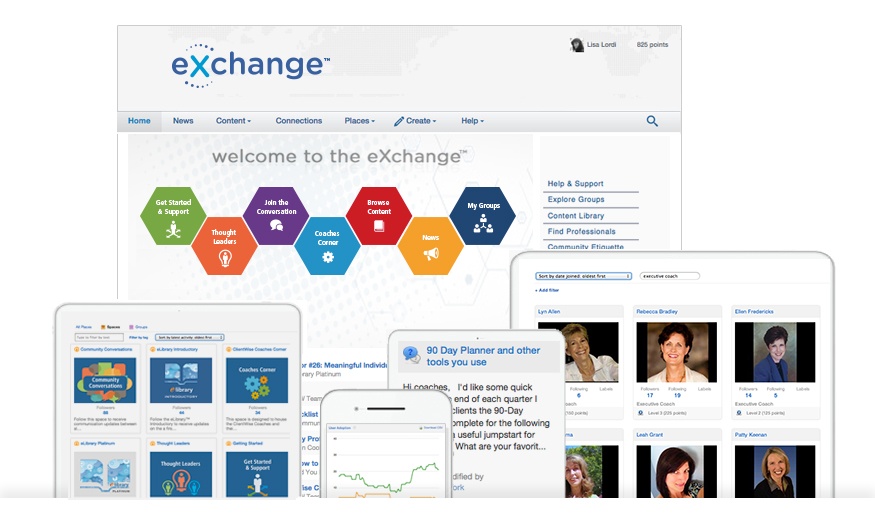 The ClientWise eXchange™ is the first of it's kind. The eXchange™ provides advisors the platform to access proprietary content developed from working with top performers in the industry, access to a network of high performing financial professionals across the nation, and the ability to engage with the world's highest credentialed executive coaches.
Coaching | Access to the highest credentialed coaches
The hybrid-learning platform on The eXchange™ provides exclusive access to ClientWise coaches, who have partnered with some of the most successful advisors in the industry to grow and improve their businesses. These same coaches, who work with Barron's ranked advisors, also provide virtual coaching to our members on the eXchange.
Co

mmunity | Peer-to-Peer Learning & Networking
The eXchange™ extends the scope of coaching to a forum that is more collaborative and inclusive in nature. Financial advisors have the ability to learn in a workshop-like format through peer-to-peer learning, and network with similarly motivated professionals from the comfort of their own office.
Our community offers a robust network of motivated financial advisors looking to improve their businesses. The different Spaces and Groups on the eXchange™ allow you to customize how you connect with these advisors, based on their affiliations, designations, relationship with ClientWise and more. Just flip an advisor or coach's tile to engage with them and ask questions about their practice and experience.
Content | The Axis of Coaching and Content
Get 24/7 access to all the information you ever wanted on financial advisory practice management. We've got the templates, tools, and tips to take actionable steps that will immediately transform your business in all areas of practice management.