Driving Sales Performance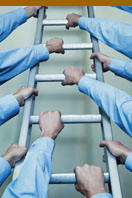 Whether you are an advisor, wholesaler or corporate office sales professional, ClientWise can help you drive sales performance and achieve your goals.
Our proprietary "momentum mechanism" helps you connect the dots and convert contacts into sales. The basis of our system is a regimented program of following up and taking action. Our disciplined program design and development model allows us to consistently prepare and implement engaging learning experiences that quickly translate into bottom line results.
Our innovative sales system will help you:
Start new relationships or open new doors for distribution
Improve the effectiveness of your administrative, sales or wholesaling teams
Develop your executive talent
Create a more consistent approach to new business development
Retain your most valuable clients and accounts
Contact ClientWise to learn more about how we can help you maximize sales performance.