Irfan Raja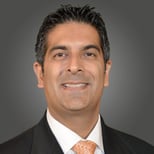 Director of Marketing

Irfan is a results-oriented professional with over 20+ years' experience specializing in developing visions and strategies that marry sales and marketing, leveraging analytics and technology.

He has been instrumental in fostering strong relationships across companies, building analytic capabilities and reporting tools to measure the effectiveness of overall marketing efforts to optimize marketing spend/resources, drive new business opportunities and deepen relationships with existing clients.
Prior to his role at ClientWise, Irfan served in the financial industry, where he began his career as a financial advisor and then later joined Alliance Bernstein in 1995 working in several key roles throughout the years. This was where he began to use digital marketing strategies to reach more clients. In 2004, Irfan joined Prudential Investments, where as head of digital marketing, built and instilled a digital marketing philosophy to help bridge the gap between sales and marketing helping to drive sales.