At ClientWise, our tagline is "Get clear. Get focused. Get results." Sounds simple enough, doesn't it?
Yet what we have observed in coaching thousands of successful financial advisors over the years is that they have one common characteristic that stands out to us. In the face of the recent rapid transformation of the financial services industry, the "best-of-the-best" have a singular ability to stay clear and focused, irrespective of the pace, or direction, of change.
As an aid to staying clear and focused, we created the Professional Advisory Model™. We have found this tool useful in a variety of ways, especially for those advisors who desire greater clarity and attention towards the important goals at hand, i.e. their business plan.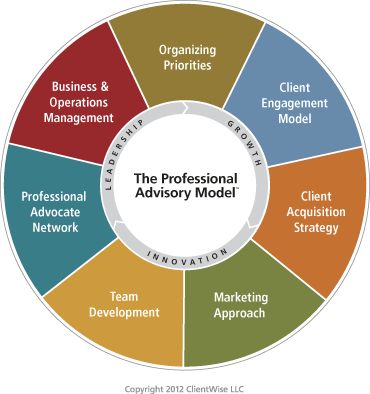 The Professional Advisory Model™ (PAM™) is intended to be an all-encompassing model that surrounds all issues that a high-performing financial advisory team might encounter. To accomplish this, we have segregated the PAM into ten separate categories:
Organizing Priorities, which is how advisors rank and attend to all goals, ambitions and urgencies that are of importance to their practice.
Client Engagement Model, involves all interactions between the advisor, the firm, and the client.
Client Acquisition Strategy, the strategy and implementation of meeting and on-boarding new clients.
Team Development, the activities, behaviors and mindset necessary for the growth and development of a high-performing team.
Professional Advocate Network, is the collection of trusted advisors who work together in a mutually defined relationship for the benefit of the client.
Business & Operations Management, how the principals of the practice run a profitable and sustainable business.
Leadership, which includes leadership of clients, team, and within a community.
Innovation, staying current amidst an industry that is experiencing rapid transformation.
Focus on Growth, emphasizes a forward-looking outlook, that is alert of all learning and growth opportunities.
The Professional Advisory Model™ and Your Business Plan
So, how can you apply the PAM to your business plan? First, you might begin to ask yourself (and your team) a series of self-coaching questions:
Within the ten PAM categories, where are you strongest? What are the real differentiators of your practice? Where could you become even better?
Conversely, within the PAM categories, where are you weakest? Which one category, if improved, would result in rapid and significant positive change for your business in the coming year?
Within each of the ten PAM categories, what are your one-year goals? Quarterly goals? What is the one thing that you could do, within every category, that would have a pronounced and meaningful positive change for your success this year?
Goal Example: Organizing Priorities. Update the 3-year vision of the business, and communicate this to our team, stakeholders, and select clients. Complete my quarterly activity planner & review goal expectations for Q1 with the entire team.
Goal Example: Client Engagement Model. Clearly define the client review process, and schedule an "Achievements Discussion" with each client. Schedule all client reviews for the quarter by January 15th.
We trust that you find this discussion helpful. [Note: For a more in-depth discussion as to how the most successful financial advisors use the Professional Advisory Model for their business goals and planning, please call ClientWise's director of business development, Trey Schalk, at (914) 269-0060.